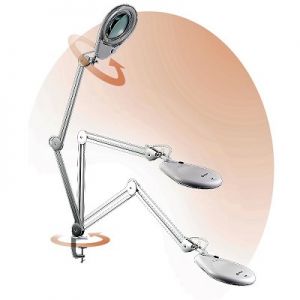 Can't see to tie your own flies. Don't stop tying instead have a look at the new OttLite 22W Clamp Light & Magnifier and also Free Standing Magnifier in our Lights & Magnification Section
The 22w Clamp Magnifier brings the best in OttLite illumination combined with an optical-grade magnifier. The sturdy and versatile clamp attaches to desks, workbenches, tables, and much more.
The OttLite Freestanding Magnifier delivers hands-free viewing and up to 5x optical-grade magnification. The rimless lens includes a spot magnifier, and the sturdy yet flexible arm is perfect for viewing intricate details on the smallest flies.