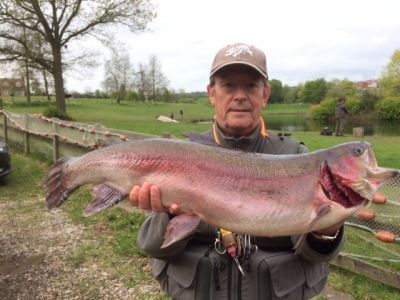 Jubilee Lakes, Saturday 30th April.
Just brilliant fishing consistent on buzzers, cdc's often just subsurface and damsels expecially with a hot head bead. This is definitely the best spring fishing for years and I have to say we are loving it!
Blyth Palmer from South Shields, below left took a lovely trout of 10lb 10oz on a fluffcat while Stuart Ryan from Coxhoe, below right took a 4 pounder and 4lb 4oz on a taddy. Good fishing to be had whether on the surface or deeper down on a lure.
Anglers were especially impressed with the size of the trout and the fitness of the trout. Review from one of our anglers who came down from Edinburgh:-
Visited jubilee lakes yesterday and have to say it is the best run fishery I have ever been to, the quality and size of fish is something else and I have the line burns on my hand as a reminder of how hard they fight, I had around 8 fish between the two lakes and two I lost where into double figures, the near 6 hour round trip was worth it and will be made again in the near future.
To be truthful we were absolutely delighted with this when we read it on our Facebook page so had to include it. It's lovely when one of the anglers has a really good day.