Andrew has been the brand manager for Hardy's for many years. The image above was taken at the weekend with Andrew (centre) with two anglers giving the Greys rods a try. He'll be bringing his expertise here this Saturday to help advise, if you want advice, on choice of rod, how to match lines and how to balance your outfit. He'll have plenty of rods available for you to try for yourself.
Below, Andrew in the Ukraine fishing the Steamflex Plus which he reckons is the most adaptable river rod designed to date.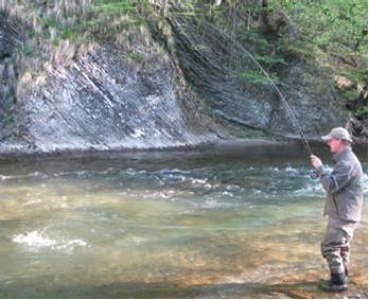 The GR70 Streamflex Plus has a revolutionary hidden extension piece which genuinely changes the action and options available in the rod. It will be one of the many rods available for anglers to try for themselves to see just how adaptable this rod can be.
Our Open Day at Jubilee Lakes is this Saturday from 10a.m to 3p.m. As well as tackle from Hardy Greys we'll also have Jim Fearn & Jim Williams here from Vision & Rio. Should be a great day. For more details phone on 01388 772611 or email: [email protected] or just pop in on the day!