Sales Enquires
Call: 01388 772611
Quality Products
Essential Fly Fishing & Fly Tying
Secure Checkout
Your information is protected.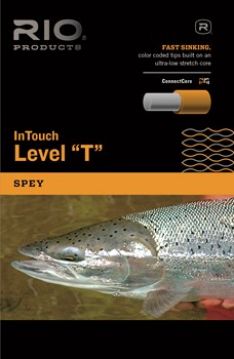 RIO Level 'T' Welding Tubing (Shrink)
Product Description
The Level "T" Welding Tubing is a heat-shrink tubing that sits over a doubled-back fly line to allow for an easy welded loop to be performed. There are two sizes of tubing available, "Regular" and "Large".
The Regular tubing has an internal diameter of 1/16th of an inch and is great for T11 and smaller, while the Large tubing has an internal diameter of 3/32nds of an inch, and best for T14 and larger. Both tubes shrink to approximately 50% of their original size.
RIO Welding Tubing compliments the InTouch level "T" sinking material, allowing anglers to customize the length of each sink tip by welding a loop in the end.
FREE POSTAGE ON ALL MAINLAND UK ORDERS OVER £50.00's (excluding postage)
MAINLAND UK £2.90 or £5.90 if your order includes bulky items such as boots, nets etc or items heavier than 2 kilo. Often these bulkier heavier items exceed our £50.00 order limit and so are sent post free.
NON MAINLAND UK, EUROPE & REST OF WORLD CHARGES
Although shipping charges are added automatically at checkout orders other than those to the UK Mainland may attract a higher shipping charge depending on size and weight. We would contact you before shipping should this be the case.
Please note free shipping on orders over £50.00 only applies to orders delivered to Mainland UK.
DISPATCH DAYS
We aim to dispatch first class, same working day - not guaranteed but we do our best. Goods are not dispatched Saturday, Sunday or Bank Holidays.
GOODS OUT OF STOCK
We make every effort to ensure that goods listed are in stock.
Goods out of stock for a day or two will be sent separately. Should there be a longer delay we will contact you to ask your preference.