Sales Enquires
Call: 01388 772611
Quality Products
Essential Fly Fishing & Fly Tying
Secure Checkout
Your information is protected.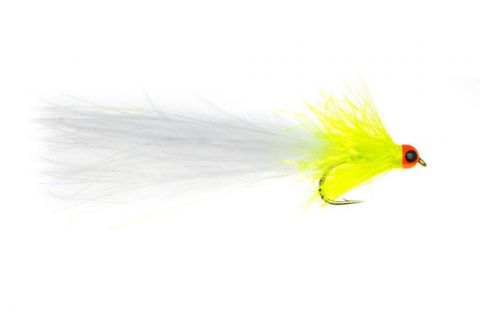 Fario Krystal Dancer Neon Cat #10
Product Description
This is one of the most popular lures there is thanks to it's versatility and consistent ability to catch fish. This particular pattern incorporates a fine UV flashabou tail.
Best fished on either a floating or intermediate line this fly can be used with a variety of retrieves from super slow figure of eight to faster strips. Particularly successful when fishing for stockies in small waters. This is a modern take on a classic lure and the green and black variation is perfect for early season fishing.
Hook- Heavy Wet Size 10
Bead- 3.3mm Fluorescent Orange with signature pupil eyes.
Overall length- Approx 6 cm
Tail- Premium hits Marabou with fine UV Flash.
Body- 15mm Flu Yellow Krystal Hackle
Hackle- Dyed Flu Yellow Cock Hackle
International Comp Legal- No
FREE POSTAGE ON ALL MAINLAND UK ORDERS OVER £50.00's (excluding postage)
MAINLAND UK £2.90 or £5.90 if your order includes bulky items such as boots, nets etc or items heavier than 2 kilo. Often these bulkier heavier items exceed our £50.00 order limit and so are sent post free.
NON MAINLAND UK, EUROPE & REST OF WORLD CHARGES
Although shipping charges are added automatically at checkout orders other than those to the UK Mainland may attract a higher shipping charge depending on size and weight. We would contact you before shipping should this be the case.
Please note free shipping on orders over £50.00 only applies to orders delivered to Mainland UK.
DISPATCH DAYS
We aim to dispatch first class, same working day - not guaranteed but we do our best. Goods are not dispatched Saturday, Sunday or Bank Holidays.
GOODS OUT OF STOCK
We make every effort to ensure that goods listed are in stock.
Goods out of stock for a day or two will be sent separately. Should there be a longer delay we will contact you to ask your preference.
Free Delivery!

Free Delivery!

£1.50