Sales Enquires
Call: 01388 772611
Quality Products
Essential Fly Fishing & Fly Tying
Secure Checkout
Your information is protected.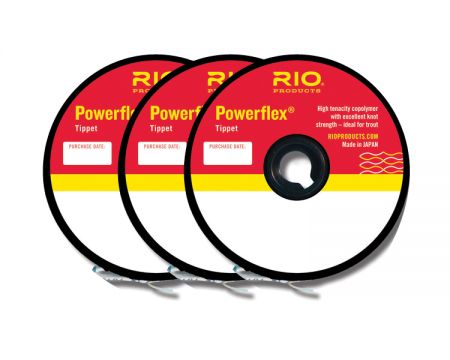 RIO Powerflex - Singles or Triple pack
Product Description
Best Selling Tippet used by many of the Worlds best Anglers. A high tenacity copolymer with excellent knot strength. PTFE coated for added abrasion resistance, stretch (26% elongation) and suppleness. Used for all species, the light gray colour provides superb camouflage in any sub aquatic environment.
Dispensed from the interlocking, rotating, patented Tippetmaster spool with RIOs patented restraint design for easy withdrawal and replacement of tippet material. Specifications are printed on the elastic restraint and sizes are colour coded for easy identification.
Powerflex is available as a standard 30 yard spool or in a useful, money-saving "triple pack" option. This consists of 3 standard 30 yard spools in a range of breaking strains/ diameters conveniently packaged in a handy plastic tub.
Single 30 yard spools available from 6X (3.5lb) to 0X (15lb)
3-pack available as follows -
1 spool each - 0X (15lb), 1X (13lb) & 2X (10lb) - 30 yards per spool
1 spool each - 3X (8.2lb), 4X (6.4lb) & 5X (5lb) - 30 yards per spool
1 spool each - 4X (6.4lb), 5X (5lb) & 6X (3.4lb) - 30 yards per spool
DELIVERY CHARGES. Shipping to Mainland UK costs £2.90 per parcel increasing to £5.90 per parcel if your order includes bulky items such as boots, nets etc or items heavier than 2 kilo. Often these heavier/ bulkier items cost more than £50.00 and so are sent post free. ALL MAINLAND UK ORDERS OVER £50.00 in value are sent post free.
We regret that we are unable to ship orders larger than small parcel to Northern Ireland and we no longer ship to Channel Islands, Europe & Rest of World at the moment
DISPATCH. As far as possible, provided postage has been correctly paid and subject to payment being authorised, we aim to dispatch orders 'same working day' on a first class service. Please note where we specifically offer Next Day delivery this means we would use a very reliable carrier on a next working day service but we cannot actually guarantee next day delivery. This may be due to which part of the country you live in where a 2-5 day service may apply or because of high pressure on carriers at certain times of the year causing a short delay. So not guaranteed for next day delivery but we do our very best and rarely fail. We count 'working days' as Monday to Friday. Goods are not dispatched on Saturday or Sunday.
GOODS OUT OF STOCK. We make every effort to ensure that goods listed are in stock. Should goods be out of stock for day or two we will send them on separately ASAP. If we think they may be out of stock for longer we will contact you for your preference.
From £5.49