Sales Enquires
Call: 01388 772611
Quality Products
Essential Fly Fishing & Fly Tying
Secure Checkout
Your information is protected.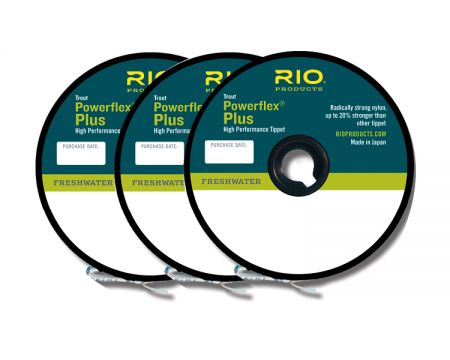 Rio Powerflex Plus - Singles or Triple Pack
Product Description
Powerflex Plus Tippet is the strongest nylon tippet material ever made, with tensile strengths up to 20% more than regular tippet. A highly technical formulation of the nylon copolymer manufacturing process has resulted in this prodigious strength increase, without compromising knot strength or suppleness. Simply put, this is the strongest, most reliable tippet ever made.
Powerflex Plus is available as a standard 50 yard spool or in a useful, money-saving "triple pack" option. This consists of 3 standard 50 yard spools in a range of breaking strains/ diameters conveniently packaged in a handy plastic tub.
Single 50 yard spools available from 6X (4.0lb) to 0X (18lb)
3-pack available as follows -
1 spool each - 0X (18lb), 1X (15lb) & 2X (12lb) - 50 yards per spool
1 spool each - 3X (9.5lb), 4X (7.5lb) & 5X (6lb) - 50 yards per spool
1 spool each - 4X (7.5lb), 5X (6.0lb) & 6X (4.lb) - 50 yards per spool
UK POSTAL CHARGE - £2.90 per order. Should you include a heavier item in your order such as waders, boots, a fishing rod, fishing outfits, pedestal vice, landing net, large tackle bag or similar then the delivery charge would increase at checkout to £5.90. FREE POSTAGE ON ALL UK ORDERS OVER £50.00's (excluding postage)
NON UK CHARGES ON ORDERS UP TO 1 KILO - £2.90. You can get a lot in one kilo - especially Fly Tying Materials. We would contact you re cost if your order exceeded one kilo. We do not send bulky or heavy items to non UK mainland addresses, sorry.
See Delivery Information for full details of our charges.
DESPATCH DAYS
We aim to dispatch first class, same working day - not guaranteed but we do our best. Goods are not dispatched Saturday, Sunday or Bank Holidays.
GOODS OUT OF STOCK
We make every effort to ensure that goods listed are in stock.
Goods out of stock for a day or two will be sent separately. Should there be a longer delay we will contact you to ask your preference.
From £9.99