Sales Enquires
Call: 01388 772611
Quality Products
Essential Fly Fishing & Fly Tying
Secure Checkout
Your information is protected.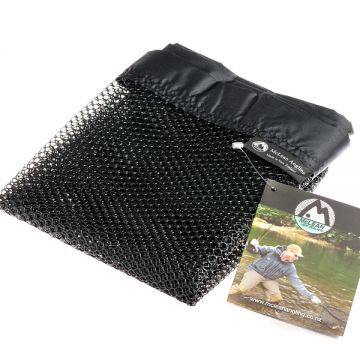 McLean Net Bags - Rubber
Product Description
Rubber mesh replacement bags. Quick to dry - and not so smelly!
Designed for McLean nets but size for size will fit others.
RU907 for McLean Nets: R100, R110, R113, R120, R130, R200, R201, R210, R400, R521, R601, R700, R701, R703, R422
RU906 for McLean Nets: R140, R420, R706
How to change McLean Net Bag:-
Loosen screw securing net bag frame to handle. Remove hoop (if required, twist slightly back and forth to loosen).
Replace old net bag.
For rubber and micro mesh, tape one end of hoop, and slide net bag on.
Secure net bag hoop in handle, by tightening screw.
FREE POSTAGE ON ALL MAINLAND UK ORDERS OVER £50.00's (excluding postage)
MAINLAND UK £2.90 or £5.90 if your order includes bulky items such as boots, nets etc or items heavier than 2 kilo. Often these bulkier heavier items exceed our £50.00 order limit and so are sent post free.
NON MAINLAND UK, EUROPE & REST OF WORLD CHARGES
Although shipping charges are added automatically at checkout orders other than those to the UK Mainland may attract a higher shipping charge depending on size and weight. We would contact you before shipping should this be the case.
Please note free shipping on orders over £50.00 only applies to orders delivered to Mainland UK.
DISPATCH DAYS
We aim to dispatch first class, same working day - not guaranteed but we do our best. Goods are not dispatched Saturday, Sunday or Bank Holidays.
GOODS OUT OF STOCK
We make every effort to ensure that goods listed are in stock.
Goods out of stock for a day or two will be sent separately. Should there be a longer delay we will contact you to ask your preference.
From £24.99