Sales Enquires
Call: 01388 772611
Quality Products
Essential Fly Fishing & Fly Tying
Secure Checkout
Your information is protected.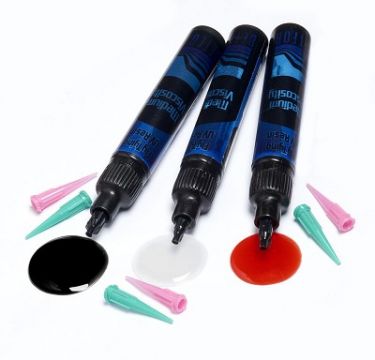 Betfor UV Resins
Product Description
Great value easy to use UV cure resin. Cure with a UV torch. Comes with 2 nozzles.
Three options here:
Betfor UV Resin Low Viscosity - Runny, with a tack free finish. Colours: Clear, Black.
Betfor UV Resin Medium Viscosity - Thicker and less runny than the low viscosity resin with a tack free finish. Colours: Clear, Black, Red.
Betfor UV Resin High Viscosity - The thickest of the three Bettor resins again with a tack free finish. Colours: Clear, Black.
Supplied in 15ml squeezable plastic tubes.
FREE POSTAGE ON ALL MAINLAND UK ORDERS OVER £50.00's (excluding postage)
MAINLAND UK £2.90 or £5.90 if your order includes bulky items such as boots, nets etc or items heavier than 2 kilo. Often these bulkier heavier items exceed our £50.00 order limit and so are sent post free. There may be additional shipping payable on orders to non Mainland UK addresses but we would notify you before shipping if that was the case.
EUROPE & REST OF WORLD - Apologies but for the moment we are only dispatching to UK addresses.
DISPATCH. As far as possible, provided postage has been correctly paid and subject to payment being authorised, we aim to dispatch orders 'same working day' on a first class service. Please note where we specifically offer Next Day delivery this means we would use a very reliable carrier on a next working day service but we cannot actually guarantee next day delivery. This may be due to which part of the country you live in where a 2-5 day service may apply or because of high pressure on carriers at certain times of the year causing a short delay. So - not guaranteed for next day delivery but we do our very best and rarely fail. We count 'working days' as Monday to Friday. Goods are not dispatched on Saturday or Sunday.
GOODS OUT OF STOCK
We make every effort to ensure that goods listed are in stock.
Goods out of stock for a day or two will be sent separately. Should there be a longer delay we will contact you to ask your preference.
£6.99