Sales Enquires
Call: 01388 772611
Quality Products
Essential Fly Fishing & Fly Tying
Secure Checkout
Your information is protected.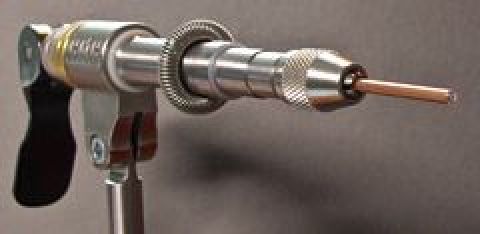 HMH Tube Vise Converter Tool
Product Description
The Tube Vise Converter will easily convert any HMH vise fitted with screw-in/out jaws to an in-line rotary tube vise. It offers a whole new way to hold tubes by chucking them directly in the steel jaws.
Mount tubes with or without junction tubing installed; with or without pins/mandrels. This sleeker design lets you take full advantage of the in-line rotary ability, and makes it easier to get materials on top, bottom, and sides of the pattern unencumbered by the tool holding the tube.
Comes with two premium mandrels, sample tubes, and tube fly hook samples.
Weight: 0.25 lbs
Dimensions: 4" × 2" × 0.5"
FREE POSTAGE ON ALL MAINLAND UK ORDERS OVER £50.00's (excluding postage)
MAINLAND UK £2.90 or £5.90 if your order includes bulky items such as boots, nets etc or items heavier than 2 kilo. Often these bulkier heavier items exceed our £50.00 order limit and so are sent post free.
NON MAINLAND UK, EUROPE & REST OF WORLD CHARGES
Although shipping charges are added automatically at checkout orders other than those to the UK Mainland may attract a higher shipping charge depending on size and weight. We would contact you before shipping should this be the case.
Please note free shipping on orders over £50.00 only applies to orders delivered to Mainland UK.
DISPATCH DAYS
We aim to dispatch first class, same working day - not guaranteed but we do our best. Goods are not dispatched Saturday, Sunday or Bank Holidays.
GOODS OUT OF STOCK
We make every effort to ensure that goods listed are in stock.
Goods out of stock for a day or two will be sent separately. Should there be a longer delay we will contact you to ask your preference.
£90.00