Sales Enquires
Call: 01388 772611
Quality Products
Essential Fly Fishing & Fly Tying
Secure Checkout
Your information is protected.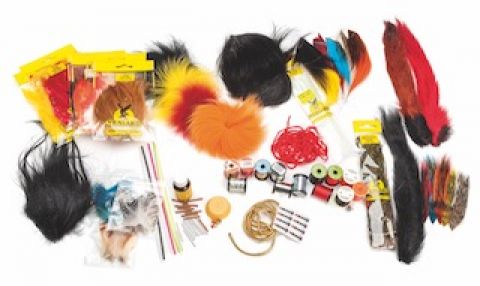 Anglers' Lodge Advanced Tube Fly Tying Kit
Product Description
This is what we'd offer you if you came to our shop and were seriously interested in tying tube flies. It contains no tools but just a really good range of materials to get you tying the real salmon catchers - Sunrays, Willies, Cascades, Dee Devils & more.
It contains no tying instructions because these are freely available in magazines like Fly Fishing & Fly Tying and there are excellent tying videos both on their website and also on YouTube.
We haven't included tools or vices simply because many will already have them and we haven't included a tube fly tool as it's a personal choice as to which you would prefer. You can contact us if you need advice on this but also go to our Tube Fly Vices, Converters & Tools department to see the options.
Materials List:-
Wool. Black, Red
Krystal Flash. Pearl, Gold
Mylar Piping. Medium Gold
40x Slipstream Tubes. Mixed Plastic, Copper & Aluminium. 3/4" to 1.5"
5x Veniard Scandinavian Tubing - mixed colours
5x Veniard Scandinavian Coneheads - mixed colours
Dyed Black Goat Hair
Half Black Bucktail
Pack Dyed Bucktail Pieces
Fox Squirrel Tail, Black
Pack Dyed Squirrel Tail Pieces
Arctic Fox Tail - Black, Orange, Red, Yellow
Calf Tail, Fiery Brown, Red
Dubbing, Sparkly
Large Cock Hackles. White, Red, Black, Yellow, Fl Orange, Red Game.
Peacock Herl. Natural
Natural & Dyed Blue Guinea Fowl
GP Tippet, Dyed Orange
Synthetic Jungle Cock Feathers
Thread 8/0. 50yds spools: Fire Orange, Black, Red
French Oval Tinsel. Medium Gold, Silver
Danvilles 4 Strand Floss. Black, Red
Glo-Brite Floss. Fire Orange
Holographic Tinsel. Wide Silver, Gold, Red
Uni-Flat Pearl Mylar. Wide Pearl
Wax Block
Silicone Tubing
Note - contents are as per list above where there are more materials than in the image.
FREE POSTAGE ON ALL MAINLAND UK ORDERS OVER £50.00's (excluding postage)
MAINLAND UK £2.90 or £5.90 if your order includes bulky items such as boots, nets etc or items heavier than 2 kilo. Often these bulkier heavier items exceed our £50.00 order limit and so are sent post free. There may be additional shipping payable on orders to non Mainland UK addresses but we would notify you before shipping if that was the case.
EUROPE & REST OF WORLD - Apologies but for the moment we are only dispatching to UK addresses.
DISPATCH. As far as possible, provided postage has been correctly paid and subject to payment being authorised, we aim to dispatch orders 'same working day' on a first class service. Please note where we specifically offer Next Day delivery this means we would use a very reliable carrier on a next working day service but we cannot actually guarantee next day delivery. This may be due to which part of the country you live in where a 2-5 day service may apply or because of high pressure on carriers at certain times of the year causing a short delay. So - not guaranteed for next day delivery but we do our very best and rarely fail. We count 'working days' as Monday to Friday. Goods are not dispatched on Saturday or Sunday.
GOODS OUT OF STOCK
We make every effort to ensure that goods listed are in stock.
Goods out of stock for a day or two will be sent separately. Should there be a longer delay we will contact you to ask your preference.
Free Delivery!

Free Delivery!

£120.00