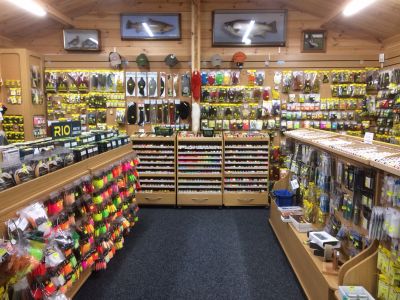 Tackle Shop is open again!! We've been struggling to strike a balance to open the tackle shop. Customers wanted to come but we are very aware that the virus is still active and spiking.
Firstly we didn't want customers to come into the shop and handle the thousands of products we have here. These are mainly packed in plastic and need to stand 72 hours before being touched again. The solution we've found is simple and we were doing it before lockdown. We'll supply rubber gloves pre entry to the shop. And only two anglers at a time in the shop.
The second problem is that we only want to allow two people in the shop at a time and only for a short time to avoid queues. Difficult when some of our customers need to try especially when buying waders & rods. But again we think we have the solution. We will have a rod & wader trying appointment system on Thursdays.
We think this should work pretty smoothly as a temporary measure and everyone will be able to use the shop. We'll still operate the click & collect & online as usual but please see below for full details.
Shop Opening Times:-
We'll be open Friday 10 to 5 and Saturday 10 to 2.
No appointment required.
Come wearing a face mask please and we'll supply rubber gloves pre entry to the shop.
Only two anglers in the shop at a time keeping 6' apart.
Customers buying waders or rods who would like to have longer to try them:-
Make an appointment for Thursdays from 10a.m., last appointment 4p.m.
Phone 01388772611 to make the appointment (or 07795 995010, appointments only line).
Let us know what you'd like to try so we can make sure it's in stock. If you aren't sure we can have a good chat on the phone as you book your appointment.
Come along wearing a mask please and we'll supply rubber gloves pre entry.
Rods can only be tried for 5-10 minutes and without a fly.
Customers using the Order & Collect Service:-
Orders can be placed by phone, 01388772611 or online at www.anglers-lodge.co.uk.
Place your order on a morning to collect on an afternoon.
You can leave your name and number on our answerphone and we will definitely phone you back and quite quickly.
There are no collections after 2p.m on Saturdays or at all on Sundays.
Our Online Service at www.anglers-lodge.co.uk will continue to operate as usual with delivery almost always next working day.
It is difficult to make these decisions while the virus is still spiking but we hope that this is a temporary measure which will keep everyone safe. Thanking you all for your great support throughout this thoroughly miserable time. Hopefully the virus will settle down soon!
All the best.
Sandra & Co at The Anglers Lodge